New Set Of Tyres For GT Pantera
I'm dead serious about cycling again and you know what, my beloved 'GT Pantera' is up in 'Kuala Lumpur' in one piece!!! I managed to transport it up last weekend and now I'm in the process of cleaning it up... The first thing I did was to give her a new pair of shoes... The one she had were in terrible state!!! The rubber had hardened and cracked can be found on it's sidewall...
The picture above is the original tyre that came with the bike when I bought it around 16 years ago!!! It was from 'WTB' a renowned company that produces awesome products for everything mountain biking... The name of the tyre is 'VelociRaptor'... The tyres had served me well all those years... It was a remarkable tyres... It just grip to whatever surface thrown at it... Sand, mud, clay, tar and etc without failing... The thread of the tyre is very unique because it is a front and rear specific tyre... Besides that, the thread is really chunky and the wear rate is really good... After all those years of cycling, the depth of the thread is almost the same as new!!! The only downside of this tyre is rolling resistance... When cycling on tar or road, you need to use up twice as much power to get it into speed!!! Really tiring if you ask me... But once you hit the dirt, it just transform into something else... Since there is a lot of rolling resistance, you can expect that this is not a quiet tyre... It is super duper noisy!!!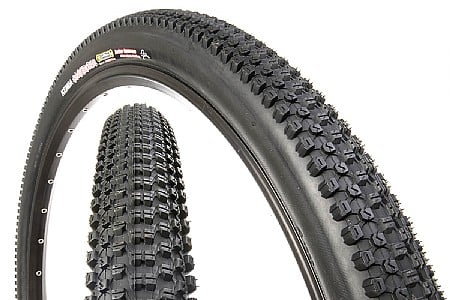 This is the new tyre that I've changed to... It's call 'Small Block Eight' from 'Kenda'... The thread pattern is not as aggressive compare to the 'VelociRaptor' but it more than make up for the lack of rolling resistance... This time round, I'm looking for a more road friendly tyre and this is what the shop recommended... After trying it out, I'm really happy with my purchase... The tyre is really quiet and not forgetting smooth and it makes my bike so much faster... Again thanks to the lack of rolling resistance!!! I'm not sure about the performance when it hits the dirt though but currently I'm more than happy about it...
Next stop will be changing all the cables and fine tuning the gearing system!!!